Morality without the Bible?
Without the Bible, is it possible to lead a moral life? Without the absolute values set down in Scripture, how are we, human beings, meant to decide right from wrong?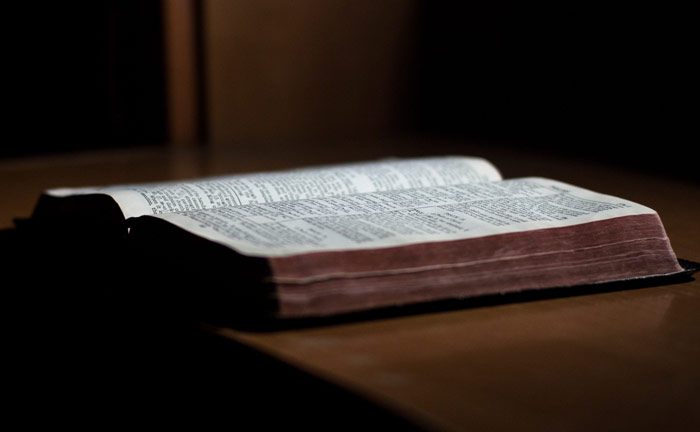 Many times, I've heard a Christian ask, 'How can anybody have any moral values without the Bible?'
What I've always found interesting about this question is how much it resonates with both Christians and atheists. To Christians, it's a question that will stump the atheists. To atheists, the question is patently absurd, possibly even insulting. Until recently, I've had no trouble opting for the latter position, and yet the question keeps coming up. So, I thought I'd write a little about it, to straighten it out in my own mind.
I used to attend meetings of a Christian Union when I was at university. Each week, a different speaker lectured on a topic of their choosing. Considering that the audience was presumably overwhelmingly Christian, it was interesting that the speakers tended to use the platform to argue for Christianity and against atheism. The sophistication of these arguments varied greatly: some argued simply that Christianity provided a meaningful framework for life, others – bravely or foolishly – decided to come up with their own 'scientific' theories regarding Adam and Eve. One particularly memorable speaker discussed at length Adam and Eve's 'perfect DNA'. He even had a theory about the variety of human forms. Adam and Eve's descendants' DNA, the preacher argued, split into 'different races'. As it split, the DNA became more fragmented and corrupt, leading to diseases and – well, you get the idea.
But, back to Biblical morality…
One argument that was used frequently at the meetings, and it was sometimes addressed to Richard Dawkins in absentia, was the idea that the Bible provided absolute moral values that were unchanging and eternally wholesome. All atheists could offer, by comparison, was moral relativism – moral values that were subject to change, like fashions going in and out of style, and which were selected arbitrarily by humans. With no Bible, individuals (and society) could choose any values that suited them. A country could decide tomorrow, so the argument went, that murder was actually okay. And why not, if morality is arbitrary?
While I think the speakers sometimes took this argument to a level of absurdity, the core idea is worth thinking about. It's intriguing to me because it is not obvious that we can derive our own morality through observation, logical reasoning and informed debate. Heck, we can't agree on Brexit, so how are we to agree on complex moral questions?
Several Christians whom I've known have said that they derive their values from God through reading the Bible. Morality, they generally argue, is that which has been set down by God thousands of years ago, documented by the Bible's authors. The values haven't changed and they never will, because what is right one day is right the next day.
There are passages of the Bible that I find morally profound, and considering how long ago they were written, maybe they are examples of timeless (absolute?) wisdom. Matthew 7, verses 1-5:
Do not judge, or you too will be judged. 2 For in the same way you judge others, you will be judged, and with the measure you use, it will be measured to you.

3 Why do you look at the speck of sawdust in your brother's eye and pay no attention to the plank in your own eye? 4 How can you say to your brother, 'Let me take the speck out of your eye,' when all the time there is a plank in your own eye? 5 You hypocrite, first take the plank out of your own eye, and then you will see clearly to remove the speck from your brother's eye.
The supernatural elements of religion have come under greater scrutiny as our understanding of the universe has grown more sophisticated. Despite this, passages like the one I just quoted contain excellent moral guidance. Given this, some have argued something like, 'Maybe there is reason to doubt the historicity of the Bible. But given that it's full of excellent life advice, maybe one should treat it as factual even if it is not, in order to lead a more fulfilling life.' There's even a movement known as 'religious fictionalism', whose adherents not only respect the teachings of the Bible, but who seek to live in much the same way as believers do – attending church, praying etc. – except they don't actually believe in God or the supernatural!
But there's an obvious issue with blindly taking the Bible as a font of inspired wisdom. Let's demonstrate with an example. Take Judges 19, verses 22-29:
22 While they were enjoying themselves, some of the wicked men of the city surrounded the house. Pounding on the door, they shouted to the old man who owned the house, "Bring out the man who came to your house so we can have sex with him."

23 The owner of the house went outside and said to them, "No, my friends, don't be so vile. Since this man is my guest, don't do this outrageous thing. 24 Look, here is my virgin daughter, and his concubine. I will bring them out to you now, and you can use them and do to them whatever you wish. But as for this man, don't do such an outrageous thing."

25 But the men would not listen to him. So the man took his concubine and sent her outside to them, and they raped her and abused her throughout the night, and at dawn they let her go. 26 At daybreak the woman went back to the house where her master was staying, fell down at the door and lay there until daylight.

27 When her master got up in the morning and opened the door of the house and stepped out to continue on his way, there lay his concubine, fallen in the doorway of the house, with her hands on the threshold. 28 He said to her, "Get up; let's go." But there was no answer. Then the man put her on his donkey and set out for home.

29 When he reached home, he took a knife and cut up his concubine, limb by limb, into twelve parts and sent them into all the areas of Israel.
Yikes!
But, of course, I cherry-picked that example specifically because it was horrifying. That doesn't change the fact that if Christians were to take the entirety of the Bible as virtuous, they would be seriously shady characters – which, by and large, they are obviously not. I hope that the vast majority of the millions of adherents of Christianity do not blindly take the entirety of the Bible as an example of excellent moral behaviour. I strongly suspect they don't. I have never met a Christian who would look at Judges 19 and decide to follow it as an example of righteous behaviour. Obviously.
'But wait a moment!' you might object. 'Judges is in the Old Testament! The New Testament is much more morally palatable.'
Sure, but consider Matthew 5, verses 17-18:
'Do not think that I have come to abolish the Law or the Prophets; I have not come to abolish them but to fulfill them. 18 For truly I tell you, until heaven and earth disappear, not the smallest letter, not the least stroke of a pen, will by any means disappear from the Law until everything is accomplished.'
To me, this states that the old laws, those laid down in the Old Testament, remain in place. I am not a Biblical scholar, but my interpretation of the above verses seems to match up to many Christians'. I'm also not convinced the New Testament's telling of Jesus's story makes much sense without the Old Testament. After all, if Jesus died for the sins of humanity, and saved humanity after its fall, what exactly was its fall in the first place if not that which was described in the Old Testament?
Most Christians cherry-pick from the Bible, and they tend, in my experience, to lean more heavily on the New Testament, and especially on the teachings of Jesus. This isn't terribly surprising, but I am very glad for it. The example set by Jesus is considerably more humane than that set by God and his followers in the Old Testament.
Cherry-picking from the Bible is great, but there's a problem with it: it means that the various ideas and rules put forward in the Bible need to be evaluated. But how do we evaluate such complicated and important ideas? It is this need to weigh up moral values and lessons that makes me think the argument that humanity can't make its own moral judgements, that such values must be sourced from some higher place, doesn't make sense – because even adherents of the Bible must (collectively or individually) make value judgements when it comes to the Scriptures. They must decide not only what these passages mean, but they must decide which are truly important and worth following.
Morality is extremely important; without it, human societies could not function. If everybody committed murder, if everybody stole, if everybody lied all the time, then there would be no societies, because we could never form meaningful, trusting groups. It is for this reason that I believe most moral precepts are not arbitrary at all, but instead the result of our social evolution. Much as our physical characteristics were chosen by natural selection, I believe, too, that our values and social rules were chosen for their survival value.
People form into groups, alliances and civilisations. It is these collectives, influenced by prominent individuals from within, that decide what is considered right and wrong. We see this when society shifts its position on a moral position – for example, many Western societies, in the twentieth century, shifted their views on unmarried mothers. Society's view shifted, and it shifted due to forces exerted by media, government and culture that are difficult to understand.
This is where those who are comforted by moral absolutism, by a morality that is static, get a little uncomfortable. Whether morality is a fixed phenomenon that awaits to be discovered, or whether it is a living entity that must be updated, our current rules and values need to be flexible. If there is a single true set of moral values, then no society has yet discovered it, and so we must be open to adapting our frameworks and rules as new evidence and new wisdom comes to light.
Individuals need a personal value system. People need a framework for understanding the world and a framework for making sound moral decisions. Mainstream Christianity provides a single framework for both of these needs. For me, the best way to understand the world is through reasoning, experimentation and observation, though that's a blog post in its own right. For the second need, I happen to believe – so long as it is tempered with rationality – that Christianity can provide a good basis for leading a moral and meaningful life. Christianity attracts plenty of lunatics, and plenty of people wear its colours for all the wrong reasons, but I've also met many who seek to emulate Jesus's teachings, and who are, as a result, a truly beneficial influence on the world. I reject that this is just a case of people doing good deeds seeking some eternal reward; I genuinely think they are inspired by their religious convictions and the stories of the Bible, especially those of the New Testament.
There is no doubt in my mind, though, that Christianity and the Bible are not the only sources of sound moral virtue. For one thing, I don't believe anybody, even Christians, derives their whole moral world view from the Bible. Morality is a prerequisite for civilisation, and civilisation spans far beyond Christianity's reach. Humans cannot get along without a shared value system, and it's worth noting that civilisations across the world, which otherwise differ greatly, share many similar characteristics when it comes to moral values, because, I suspect, some moral values are more valuable, more universal, than others.