The Founder
Greetings, 'The Founder' is a biographical film from 2016 that was directed by John Lee Hancock, who is also known for directing 'Saving Mr Banks' a few years prior in 2013. While 'Saving Mr Bank's was about P.L. Travers and Walt Disney creating the 'Mary Poppins' movie, 'The Founder' is about the transformation of McDonalds from a small family orientated restaurant into a globe spanning empire. It stars Michael Keaton as businessman Ray Kroc, Nick Offerman and John Carroll Lynch as the McDonalds brothers, Richard and Maurice, with Laura Dern and Linda Cardellini in supporting roles. The score was composed by Carter Burwell who mostly works with the Cohen brothers in films such as 'Raising Arizona' and 'Fargo' but was also involved in 'Three Billboards Outside Ebbing, Missouri' and Netflix's 'Space Force'.
The plot begins with Ray Kroc, a milkshake machine salesman, travelling across America and trying to sell his wares to restaurants in 1954 through a charismatic pitch. After failing to shift much of his product, Ray becomes increasingly frustrated with his lack of progress and relies on recorded speeches to inspire him in his darkest days. The record explains that what makes a man successful isn't his vision, his natural talents or his intelligence but his persistence and his ability to keep getting up after being repeatedly knocked down. With this mind-set firmly entrenched, Ray believes that he will eventually find his path to wealth and power as a golden opportunity will arise if he just keeps working on it with gritted determination. That very opportunity comes one day when a request for an unusually high number of milkshake machines is made by two brothers named McDonald. An intrigued Ray travels down to the McDonald's restaurant in San Bernardino, California with the milkshake machines in his car.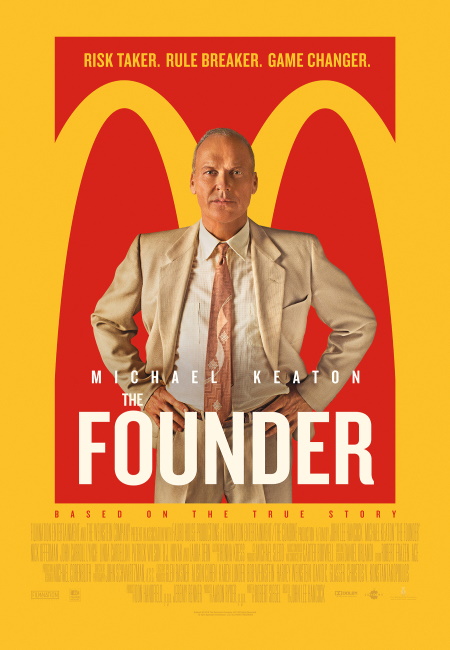 As he arrives, he sees a throng of people standing in line to get their orders in. Kroc is now even more curious and he joins the line of customers who vary in age range. Once he gets to the top of the queue, Ray is baffled by how different it is to any eatery he has been at before and is shocked to learn they only have a limited menu but are producing quality food at a rapid rate. After getting his meal, he learns that he can eat it anywhere due to the disposable and minimal wrapping. Kroc sees very clearly that this was just the moment he was waiting for. An opportunity that could start a franchise and revolutionise the gastronomical experience. He meets the McDonalds brothers and despite initial rebuffing from them on an offer to build their restaurant into a chain, Ray keeps coming back as per his inspirational record's instruction and refuses to give up his dream.
I really liked this movie and found it interesting how easy it was to sympathise with the struggling Ray Kroc at the beginning until slowly but surely he became more and more ruthless as the film progressed. Keaton brought a real sleazy charm to his portrayal and I found him to be one of the highlights of the film alongside Offerman and Lynch's performances as they struggled to contain Kroc's intense ambition. It will be of no surprise to anyone that 'The Founder' ends on a sombre note for the McDonalds brothers but it is a fascinating tale to learn how their unique business idea became such a giant transnational corporation once it was guided by Kroc's hands. This is one movie that I'd definitely recommend to others.
Plot=10/10
Characters=10/10
Special Effects=10/10
Overall=10/10
Quote of the Day
Young men love risk because they can't imagine the consequences.
Bert Cooper
Mad Men