ParaNorman
Greetings, ParaNorman is a 2012 animated film mixing the elements of humour as well horror fit for family viewing. Despite attempting to be a family orientated movie, the themes and the story in general are reasonably darker as well as rather complex than the black and white scenario you would expect. Some of the more prominent cast members include John Goodman, Christopher Mintz-Plasse and Bernard Hill. It was created by Laika, which is mostly known for the 2009 movie Caroline.
The plot is centred in a fictional Massachusetts town called Blithe Hollow. During the 1700s as the Puritans began to colonise the area and in their attempt to keep it holy, they executed a local who was charged with the crime witchcraft. Before the witch was killed she cursed those who judged her to walk the earth as the living dead. Most of the plot is set in the present day around Norman, the protagonist of the story, who has an obsessive interest in the deceased and the ability to interact with ghosts. Of course nobody believes that he has these powers which has lead to his ostracism from the town's community and even emotional isolation from his family.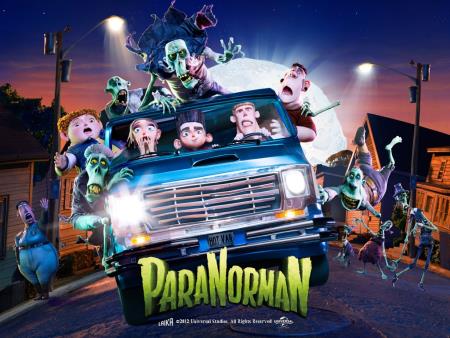 It isn't long before Norman is contacted by his estranged uncle, who also has the same paranormal abilities and is the most recent generation of his family to ensure that the witch and the zombies never rise from their graves. The uncle, realizing that his own life span was about to end had to ensure that Norman would take over his duties of reading a book at the witch's burial site and thus protect the town from the curse by preventing the witch from awakening. After his uncle's death, Norman decides to believe him after the current visions he had been having and attempts to read the book. However, he is too late and the witches curse begins. Therefore Norman has to stop the spell with an ill prepared team consisting of his uncaring sister Courtney, his socially rejected friend Neil, Neil's older brother Mitch and Norman's bully, Alvin.
Overall, it is a really good film that actually contradicts well known tropes by flipping them against themselves and balances the humour and emotional scenes nicely. While it may not have the most notable cast, the actors and actresses certainly deliver their parts perfectly. I don't recall ever watching another Laika film before this one, but I will keep an eye out for their latest projects and might watch Caroline at some time.
Plot=9/10
Characters=9/10
Animation=9/10
Overall=9/10
Quote of the day
It's ok to die Bats, I'll be here to protect Gotham! I'll do a real good job
Joker
Batman: Arkham City