Ethel and Ernest
Greetings, 'Ethel and Ernest' is a 2016 animated film from the late British cartoonist and author Raymond Briggs and it is a biographical adaptation of a book from 1998 based on the lives of Raymond's parents. Briggs is perhaps best known for his festive cartoons such as 'The Snowman', a short that is without words bar the well-known rendition of 'Walking in the Air', and the 'Father Christmas' films starring Mel Smith as Santa Claus. Naturally, the plot for this movie is much less fantastical as it is a dramatic retelling of the lives of Ethel and Ernest Briggs from the 1920s to the 1970s. Among the voice cast is Brenda Blethyn as Ethel, Jim Broadbent as Ernest and Luke Treadway as Raymond. The music was composed by Carl Davies who also created the score for the ground breaking documentary 'The World at War.'
The story begins in London during 1928 when a young Ethel, a lady's maid with strict notions of what prim and proper behaviour constitutes and that it should be adhered to, catches the eye of the local milkman Ernest. After some time in which the smitten Ernest tries to garner Ethel's affections, the two hit it off and they are married within a few years. Despite not being particularly well off, they manage to scrape together enough money to buy a suburban house that they would live in for 40 years. With Ethel giving up her profession to become a housewife, the Briggs become a family unit in 1934 when Raymond is born. The three are able to enjoy a few blissful years together but there are dark clouds on the horizon that threaten that peaceful life.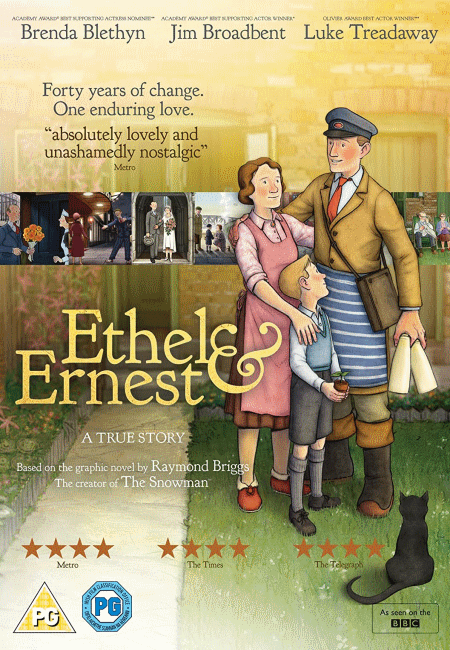 The dreaded fear that many hoped to avoid had become reality when the Second World War comes to the fore and Ethel and Ernest decide to evacuate their son to the countryside as London is rocked night after night during the blitz. Ernest does his part for his country and helps out in the war by becoming a fireman, tackling the fires caused by continuous Luftwaffe bombing raids. The traumatic years eventually do come to an end with the surrender of the Axis powers and the Briggs are once again reunited with their son. As the years go by, the ageing parents struggle with the rapidly changing society they find themselves in whether it be difficulties with technological advancements such as television sets becoming more common in British households or long held social mores being challenged by more liberal minded youths.
Despite some of the horrific years that 'Ethel and Ernest' cover, I'd describe it as being a fairly gentle film that can be quite poignant at times during its more emotive scenes. The eye-catching artwork in particular brings a uniqueness and charm to the story. Like one of his other works, 1986's 'When the Wind Blows' in which an older couple try to survive a nuclear strike that had been launched on Britain, an iconic British signer made a song specifically for the film's soundtrack. David Bowie had performed an original song with the same title as the film for the opening scenes of the earlier movie while Paul McCartney sang 'In the Blink of an Eye' during the credits of 'Ethel and Ernest'. I enjoyed both of these films, which Raymond stated were both based on his parents, and I'd encourage you to check them out if you haven't done so already.
Plot=8/10
Characters=8/10
Special Effects=8/10
Overall=8/10
Quote of the Day
You already know enough about me. Any more and you're going to get a headache.
Kira
Xanadu