Tales of Monkey Island
Greetings, Tales of Monkey Island is a Telltale game from 2009 and is a continuation of Lucasart's Monkey Island series. While it is the fifth game in the franchise I have not played any of the previous instalments which began in 1990 with the Secret of Monkey Island. Despite this, I was still able to enjoy the latest video game and got to grasps with the existing characters. Some actors had reprised their roles such as Dominic Armato as the protagonist Guybrush Threepwood and Alexandra Boyd as Threepwood's love interest, Elaine Marely-Threepwood. Unusually for a Telltale game, Jared Emerson-Johnson had little involvement in the Original Sound Track which is composed by Michael Land, the artist responsible for previous music in the series. Jared was involved in the game however, by voicing one of the antagonists known as the Marquis de Singe.
The plot begins in the middle of action sequence in which Guybrush is trying to save his wife, Elaine, from the demonic pirate called LeChuck. Threepwood stabs LeChuck with a magical sword but unfortunately the hero hadn't assembled all of the parts for the weapon to be effective. The attack transforms LeChuck into a human while transferring the "Pox of LeChuck" into Threepwood's hand which has become able to control itself. The pox will turn those it possesses into a demonic and aggressive creature. Before Guybrush can save Elaine an explosion on the ship knocks him overboard and he wakes up on Flotsam Island. Threepwood is stranded on the island as the winds have being blowing inland for years according to the local residents, as such he is unable to search for Elaine and he travels Flotsam in search of a way out.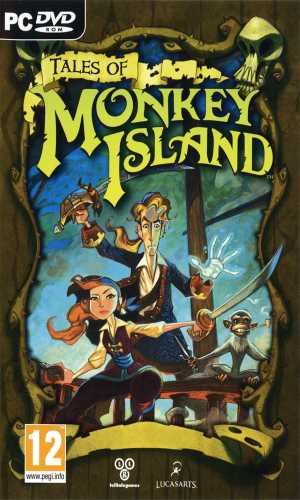 It is on Flotsam where Guybrush meets a familiar but mysterious figure called the Voodoo Lady who he had encountered before in his adventures. She informs the pirate that the "Pox of LeChuck" will spread throughout the Caribbean if he cannot locate a magical sea sponge called "La Esponja Grande", which would suck up the magical energy of the pox. The Voodoo Lady also claims that if Threepwood wishes to find the sponge, then he should seek guidance from a man called Coronado DeCava who has mysteriously vanished in his search for it. He also crosses paths with a French scientists called the Marquis de Singe who becomes obsessed with Guybrush's infected hand as he believes it holds the key to eternal life. As such, Guybrush Threepwood must get off the island, find "La Esponja Grande" and rescue Elaine while evading De Singe's grasp.
There are five episodes in total in which the player is introduced to a whole range of unusual creatures and colourful characters such as pirate bounty hunter Morgan LeFlay or Murray the demonic skull. While some puzzles were infuriating at times, I can say that I enjoyed this game as it was full of comedic scenes and contained an interesting storyline. I am unsure if there are any plans for a sequel but I would definitely play it if one came about. Although I cannot be sure of the future of the series, I do know it has plenty of other previous instalments that I would like to experience at some point in the future.
Plot=9/10
Characters=9/10
Graphics=8/10
Overall=9/10
Quote of the Day
I love my brick!
Father Jack
Father Ted