Episodes
Greetings, Episodes is a comedy television series that was written by David Crane, co-creator of the global phenomenon that is Friends, and Jeffrey Klarik. It stars Matt LeBlanc as a fictionalized version of himself as well as Stephen Mangan and Tamsin Creig as a married British writers Sean and Beverly Lincoln. Other cast members include John Pankow, Kathleen Rose Perkins, Mircea Monroe and Genevieve O'Reilly who star in prominent roles within the series. There are numerous supporting cast members as well and the occasional celebrity cameo as is befitting the nature of the show. Episodes, running from 2011 to 2017, consists of 5 seasons and has a total of 41 episodes. The music was composed by Mark Thomas who does not appear to have much musical scores or original sound tracks credited to himself.
The plot begins in London in which the husband and wife team of Sean and Beverly Lincoln have won another BAFTA award for their sitcom, Lyman's Boys, much to the displeasure of their screen-writing competitors. The success of their show captures the attention of one Merc Lapidus. Merc, the president of an American network, is present at the award ceremony and offers the Lincolns a chance to remake their show in L.A. for an American audience. Both Sean and Beverly enthusiastically agree to the deal as they see it as their chance to move up in the show business world. They shortly move out to their temporary home in L.A. and are immediately receptive to the luxurious life they would be living. Their infatuation with the place and the entertainment industry in America quickly dissipates when they realize that they are not in control of their own work as the network pushes forward with unwelcome changes. One such unwelcome change is that their preferred choice of actor for the new American version had auditioned for the role but was passed over by the network's casting department. A rather stuffy and old British actor named Julian Bullard, who was to reprise his role from the original, was replaced by the much younger and more charismatic Matt LeBlanc.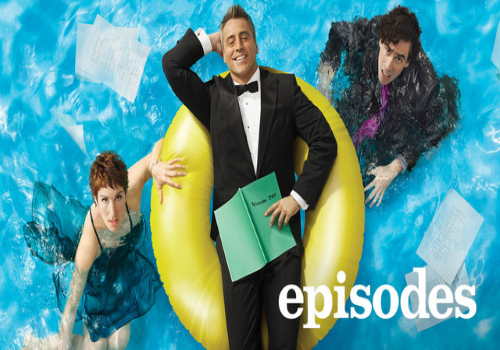 The Lincolns are not content that their choice was overruled by the network but they decide to continue with the show anyhow. Upon meeting LeBlanc for the first time, both Sean and Beverly are initially star struck by him but are eventually horrified to learn that he is hard to work with. LeBlanc changes the core of their show to suit a US audience and the network agrees wholeheartedly with his ideas. The show was no longer about an aged headmaster in love with a lesbian librarian, instead it became a series about a hockey coach and his parental relationship with his students. The television series was also rebranded 'Pucks' much to the angst of Beverly and Sean. The Lincolns also discover that despite initially gushing over the series, Merc had never actually seen an episode of Lyman's Boys. Their new creation of Pucks is constantly under threat of being cancelled due to poor reviews from critics and the Lincolns risk being sent back home to London as failures.
I really enjoyed this show and appreciated how Matt often made fun of himself as well as his career such as referencing the much derided Friends spinoff Joey. The relationship between Matt, Sean and Beverly was one of the highlights of the series for me. The three appear to be in comradery spirits most of the time but relations could often be volatile or hostile, especially during the season one conclusion that serves as a main plot point in the show. Episodes also deals with the fictionalized Matt's personal life as a divorcee with limited access to his kids and his strained relationship with his curmudgeonly father who was played by Alex Rocco. Another aspect of the show I liked was the friendship between Beverly and the down on her luck head of programming, Carol Rance. If you are looking for a fairly light comedy show to enjoy that is also rather short, then I would most certainly recommend Episodes.
Plot=10/10
Characters=9/10
Special Effects=7/10
Overall=8/10
Quote of the Day
I am Spartacus!
Spartacus
Spartacus