Gran Torino
Greetings, Gran Torino is a 2008 film that was written by, directed by and stars Hollywood icon Clint Eastwood as the primary protagonist, Walt Kowalski. The cast also includes Bee Vang and Ahney Her who are both performers of Hmong descent that made their acting debut with this film. Other cast members consist of Christopher Carley, Doua Moua, Brian Haley, Geraldine Hughes, John Caroll Lynch and a brief cameo by Scott Eastwood, one of Clint's sons. The music was composed by Kyle Eastwood, another of Clint's children, and Michael Stevens who worked on the soundtracks for various films including 'Million Dollar Baby', 'Letters from Iwo Jima' and 'Invictus'. Stevens' discography is mostly comprised of other Eastwood productions.
The plot begins with Walter Kowalski, an aging Polish-American veteran of the Korean War, who is recently widowed. Following his wife's funeral, it becomes apparent that he has become rather emotionally detached from his immediate family. From one of his sons trying to get him to become a resident in a retirement home against Walt's wishes to his granddaughter eyeing up his Gran Torino and attempting to talk him into giving it to her, it is clear that Walt is disgusted by his families' actions. Walt, along with his elderly dog named Daisy, are trying to enjoy their twilight years in Detroit when a new family move into the neighbouring house. The new Asian arrivals are treated with hostility by the set in his ways Walt who had grown to hate those of Oriental heritage during his years on the frontlines.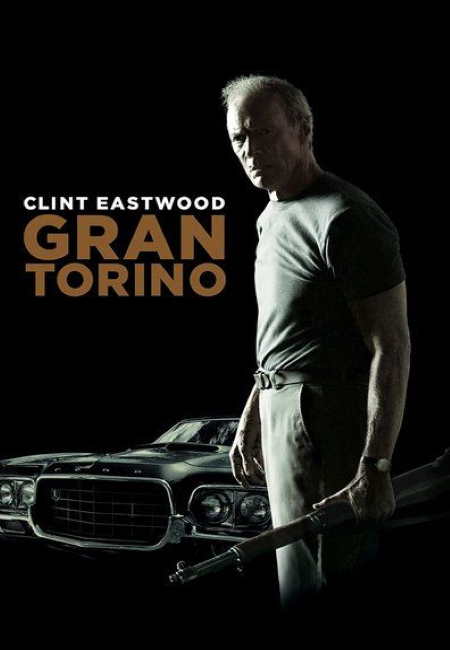 Detroit, once populated by working class white families, experienced a significant exodus many decades ago that means the area is mainly populated by Asian families in the modern day and crime has become rife. As such, the emergence of the Lor family is an unwelcome reminder of how Walt's world is changing. Thao, an adolescent member of the Lor family, does little to ingratiate himself with Kowalski when he is pressured into trying to steal Walt's Gran Torino as part of an initiation into a local gang. The attempt goes poorly as Walt, armed with his old service rifle, discovers Thao in the middle of his grand theft auto. After the confrontation and as part of his penance, Thao is forced by his family to work for Walt and is ordered to undertake odd jobs around Kowalski's house. Despite an uneasy start in their relationships, Walt eventually begins to warm to Thao and his sister named Sue who tries to educate Kowalski in Hmong culture.
I really enjoyed this movie, despite its relative predictability, and found it to be quite different to the other work's in Eastwood's filmography that I have seen so far. I thought Walt was particularly well characterised and it was entertaining to watch his relationship with Thao, a much younger man from a very different cultural background. I was especially interested in the previously stated fact that it was the first performance for Bee Vang and Ahney Her. This is mostly because having such main roles being played by first time artists could have easily been disastrous but it thankfully worked in Gran Torino's favour as they both gave solid portrayals. I haven't watched much of Clint's later movies but after this one I'd be interested in exploring them further, especially those he has directed himself.
Plot=8/10
Characters=8/10
Special Effects=7/10
Overall=8/10
Quote of the Day
They're not gonna catch us. We're on a mission from God!
Elwood Blues
The Blues Brothers