The Whale
Greetings, 'The Whale' is a 2022 film which was directed by Darren Aronofsky and is based on Samuel D. Hunter's play, that came out ten years prior to the adaptation's release, from which the movie derives its title. Aronofsky was behind other projects in a directorial role such as 'Requiem for a Dream' and 'The Wrestler'. The film stars Brendan Fraser, who is most known for being the action lead of Rick O'Connell in 'The Mummy' trilogy, amidst a welcomed resurgence of his cinematic career after a significant lull in his filmography in the 2010s. The actors and actresses working alongside Fraser include 'Stranger Things' cast member Sadie Sink, Hong Chau, Ty Simpkins and Samantha Morton. The music was composed by Rob Simonsen who was involved in scoring the soundtracks of 'Moneyball', 'Life of Pi' and 'The Age of Adeline'.
The plot begins with Charlie who is an English teacher who tutors his students via online lessons. He does so without revealing his appearance as he is a morbidly obese man weighing in at just under 600 pounds and is ashamed of himself for letting his size problem get out of hand. During a session of over excitable self-pleasuring to homosexual pornography, the overweight Charlie suffers severe heart pains and believe his end is at hand. Fortunately for Charlie, there is a stranger at the door who enters the apartment once he is aware that the door is unlocked. The stranger is a missionary who had come to preach the Good Word and is named Thomas. He is shocked to discover Charlie in his state of distress. A frantic Charlie shoves a document in Thomas' hands and pleads with him to read it aloud. The concerned Thomas is confused by the request and offers to call for an ambulance instead but is eventually persuaded to read the document, an essay on 'Moby Dick', after Charlie denies any other help.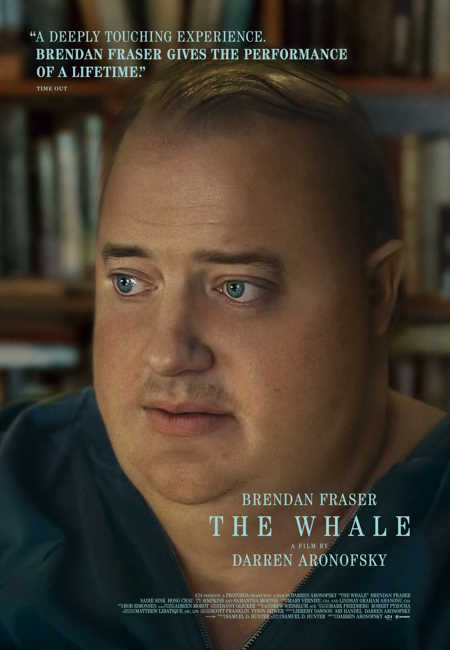 The attack subsides and Charlie calms down after he found solace in the essay. Liz, Charlie's friend and a trained nurse, comes to the apartment shortly after the incident to check him over for any apparent medical issues that could arise. During her visit, Liz treats Thomas with hostility due to his relation to his ministry, with which she has a complicated past, and he is forced out of the apartment despite having comforted Charlie in his moment of need. When they are alone, a tearful Liz berates Charlie for becoming chronically overweight and stresses that he needs to attend a hospital or face the very real possibility that he would soon pass on. Charlie vetoes the idea with complete disregard for his safety and says that he could not afford to pay the astronomical fees for his healthcare. The near death experience inspires Charlie to reach out to his estranged daughter called Ellie and encourages him to try to reconnect with her while he still has time.
While this movie couldn't be described as an enjoyable film due to its bleak and depressive atmosphere, it did manage to keep a hold of my attention the whole way through despite the rather simplistic plot. It was pleasant to see Fraser return to the silver screen and the fat suit he wears looks natural enough to not break the immersive experience. The small cast of performers do an excellent job here, especially Brendan as the likeable but ultimately broken Charlie, although most of the characters could be quite difficult to warm to due to their abrasive personalities. This was especially true of Ellie who comes across as an irredeemable and sadistic being who merely uses others to get what she wants. I'll most likely look into other projects Aronofsky was involved in due to my positive experience with 'The Whale' and will keep an eye on his future films.
Plot=8/10
Characters=7/10
Special Effects=7/10
Overall=8/10
Quote of the Day
I only gamble with my life, never my money.
Rick O'Connell
The Mummy