The Last Templar
Greetings, the Last Templar was written by Raymond Khoury who also developed a sequel named The Templar Salvation. It has two stories which are interlinked with each other, one being set in the times of the Templar and the other in modern day New York. The Templar's are in the novel for only a short time in comparison with the current adventure.
The plot begins in the New York Metropolitaon Museum which is holding a special exhibition of artefacts that have never been seen by the public. Archaeologist Tess Chaykin visits on the opening night when the museum is attacked by four horsemen dressed as Knights Templar, an organisation that had fallen several thousand years beforehand.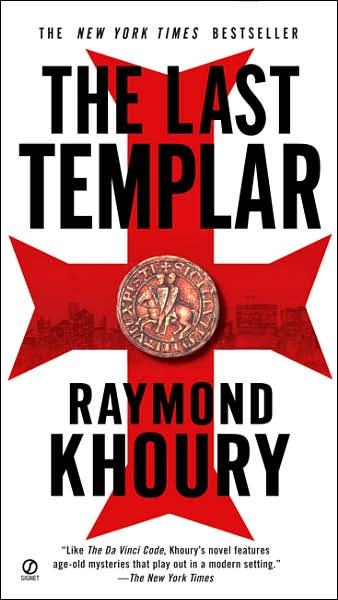 The leader of the thieves steels a rather unordinary device that appears to lack the high quality of the other items. After the raid an FBI agent called Sean Reilly investigates the crime. Once the archaeologist, Tess is able to help reach an expert in the Knights Templar named Bill Vance, she herself becomes personally involved in the case. During the following days, three of the horsemen are killed by an assassin who goes by the name of Plunkett and is also seeking out the organiser as well as the device he stole.
Overall it is a solid book but towards the end it does become rather dull before it picks up slightly at the climax. Also, several theories were suggested as to what the device did and the one that the writer had chosen became less appealing after the massive build up throughout the novel. It is a decent adventure but it isn't a classic. The eighth chapter of Team X Paranormal Division is up at Warehouse 17.
Plot=7/10
Characters=7/10
Wording=8/10
Overall=7/10
Quote of the day
Do you really think you have a chance against us, Mister Cowboy?
Hans Gruber
Die Hard