Mogworld
Greetings, Mogworld is a comedic novel from 2010 and was written by Ben 'Yahtzee' Croshaw. It is written in a first person narrative and is about an undead protagonist called Jim in the virtual world of Mogworld. Croshaw is a British-Australian video game journalist and author who is probably best known for his Zero Punctuation series on the gaming website, the Escapist. He has also been known to co-operate on other projects with ex-Escapist members such as fellow game reviewer Jim Sterling before the former's departure from the site. Mogworld is Ben's first novel and was published by Dark Horse Books. He published another novel in 2012 called Jam which is a loosely related book to his original. I have yet to read Jam but the premise sounds even more comical and absurd than that of Mogworld's.
The story begins with a student, Jim, who is studying sorcery at a magical school in the fictitious land of Mogworld. The school is attacked by a neighbouring army and Jim is one of the first pupils to be killed during the invasion. The main story takes place some decades later when Jim became a decomposing corpse and is awakened during an earthquake. He and other undead, run to the surface as they flee their sinking crypts. When they reach the land, the zombie masses discover that a necromancer by the name of Deadgrave had been responsible for waking them and was the cause of the earthquake. After a quick conversation Deadgrave manages to convince his undead legions to become his employees and defend his castle from intruders and adventurers. While Jim had tried to escape his existence via suicide, he realises he is unable to die and keeps getting patched up by fellow undead employee Meryl after his failed suicide attempts. Meryl soon obsesses over Jim when she learns that he used to belong to her own nation before it had been annexed by their neighbours.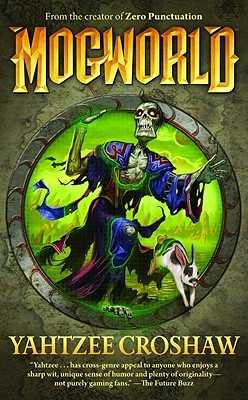 While Jim eventually accepts that he is immortal and is forced to live in his rotting body, he also embraces his job as a tormentor of adventures that break into Deadgrave's liar. Jim gets a sense of Déjà vu during one raid in which he captures an incompetent adventure by the name of Slippery John. He soon realizes that he has killed the adventurer several times beforehand and learns that the whole world had become immortal due to an event known as the Infusion. While he talks to John, the entire fortress begins to fall under attack. Jim and Meryl, alongside an undead priest named Thaddeus, manage to escape in time to witness the compound as well as its ruler, Deadgrave, be deleted by mysterious angel-like creatures. The three manage to escape their extermination by the beings, nicknamed 'Deleters', while the zombie hordes are vanquished. During the moment of terror, Jim forgets that he actually wanted to be killed and so begins a quest with the other two protagonists to find the Deleters in order to finally get himself removed from existence.
I enjoyed this book overall although I did find it a bit difficult to get into at first. The humour works quite well on page, with most of it coming from Thaddeus in my opinion, but it doesn't come across as effectively as his comedic style in Zero Punctuation. It proves to be a unique experience with a variety of colourful characters and an original plot set in a massively multiplayer online game. I also intend to read Yahtzee's second novel at some point in the near future.
Plot=7/10
Characters=7/10
Wording=7/10
Overall=7/10
Quote of the Day
And when Alexander saw the breadth of his domain, he wept...for there were no more worlds to conquer. Benefits of a classical education.
Hans Gruber
Die Hard