Godless
Greetings and welcome to the first blog update of 2019! Godless is a Western miniseries that was released by Netflix in 2017 and was created, written and directed by Scott Frank. There are only seven episodes in the series and they all differ in their run times. The cast is sizeable and consists of Jack O'Connell, Michelle Dockery, Jeff Daniels, Scoot McNairy as well as Thomas Brodie-Sangster. The music was conducted by Carlos Rafael Rivera who has few soundtracks in his discography. The only particular movie of note that he was involved in was the 2014 neo-noir crime film, A Walk Among the Tombstones, which starred Liam Neeson and was also directed by Scott Frank.
The plot begins at the sight of a massacre in Creede, Colorado. Marshal John Cook discovers the chaotic scene in which a train has been deliberately toppled and all the passengers on board were slaughtered. It was the work of the nefarious Frank Griffin and his band of murderous, thieving thugs. The mayhem had arisen from a conflict between the protagonist Roy Goode, a one time member of the syndicate, and Frank's crew who had severely fallen out with Goode prior to the show's opening. Both Roy and Frank were seriously injured in the shootout at Creede. Griffin had sustained such a critical wound that his arm had to be amputated while Goode, hit by a bullet, managed to escape the vengeful clan on horseback. Roy, barely conscious as a result of his injury, rode his horse to a lone ranch in the outskirts of La Belle during nightfall. Alice Fletcher, the ranch owner, confronted the hurt outlaw and shot him for being an uncooperative trespasser. She then took Roy into her barn after knocking him off his horse.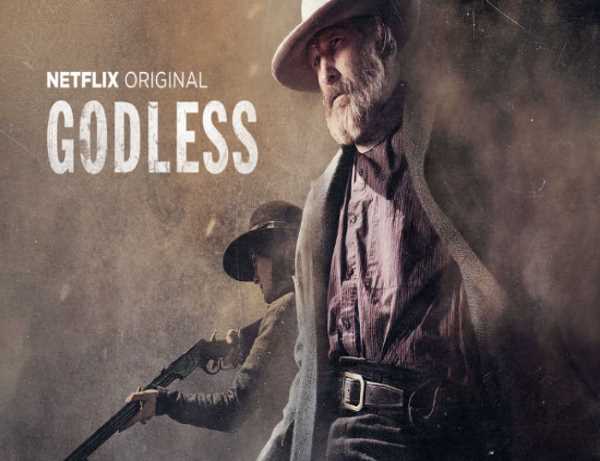 Alice manages to nurse Goode back to health with the help of her Native American mother in-law, Iyovi, and her son, Truckee. It soon became apparent that their unwelcome visitor is going to be a source of trouble and that his presence would bring a maelstrom of death to the small mining town of La Belle. Marshall Cook arrives into the same town after his inspection of the massacre. La Belle was now mostly inhabited by women due to a recent mining accident that wiped out the vast majority of the local men. He came to alert the sheriff, one Bill McNue, about the horrors that had been inflicted upon Creede. Bill agrees to help the sheriff in his pursuit of Frank Griffin and assist in the capture of Roy Goode. While he did want to help, McNue is troubled by his faltering eyesight which began to deteriorate after his wife's death and he fears that he may not be able to protect the citizens of La Belle from Frank's gang.
Overall, Godless was an enjoyable watch and it should appeal to fans of the Western genre. It covers a lot of ground in its seven episode run and contains some interesting storylines. Jeff Daniels' portrayal of the charismatic and complex villain of Frank Griffin deserves a special mention. Daniels, perhaps best known for his comedic role as Harry Dunne in the Dumb and Dumber series, is allowed to take on the more serious part of the twisted outlaw who displays both kindness in accordance with his strong Christian upbringing as well as sociopathic cruelty. As such, the audience is never really sure which path Frank is going to take and this is one of the reasons I really liked the character. The conclusion may have felt anti-climactic to some of its viewers but I believed it tied up the plot nicely and provided an action packed spectacle for the finale. If you haven't seen Godless yet I would encourage you to give it a go.
Plot=8/10
Characters=8/10
Special Effects=7/10
Overall=8/10
Quote of the Day
Rosebud...
Charles Foster Kane
Citizen Kane