Are You There God? It's Me, Margaret
Greetings, 'Are You There God? It's Me, Margaret.' is a 2023 film directed by Kelly Fremon Craig and is based on Judy Blume's 1970 novel which shares the same name. Fremon Craig has been working in the entertainment industry since the 2000s as a scriptwriter. She had only directed one other movie prior to this latest instalment which was 'The Edge of Seventeen', a feature film that came out in 2016. 'Are you There God?', being a coming of age story, mainly rests on the shoulders of young actors and actresses who do a terrific job in their roles. The titular Margaret Simon is portrayed by Abby Ryder Fortson who would mostly be known for her work in the Marvel Cinematic Universe as Cassie Lang, daughter of Ant-Man's alter ego Scott Lang. Other young stars include Elle Graham, Amari Alexis Price, Katherine Kupferer and Isol Young. Aside from the child actors, it does have a more established cast as well which consists of Rachael McAdams, Kathy Bates and Benny Safdie to name a few. Hollywood stalwart Hans Zimmer, who is partially famed for his collaborations with Christopher Nolan, conducted the score.
The plot begins in 1970 with an 11 year old Margaret who is enjoying her childhood in New York City with her parents, an inter-faith married couple named Barbara and Herb. Her mother is Christian while her father is Jewish and Margaret is currently not prescribing to any particular religion herself. Margaret is very close with her grandmother, called Sylvia, who lives in the city as well but her life takes an unanticipated turn when Herb informs his daughter that he received a promotion that will require the family to move to a New Jersey suburb. Margaret is distraught at the news which will force her to leave her grandmother and school friends behind. It also causes her to fret about having to form another social circle from scratch in her new home. At this point, the uneasy Margaret decides to reach out to God from the sanctuary of her room about her internal emotional struggles and lays all her hopes, concerns and dreams on Him.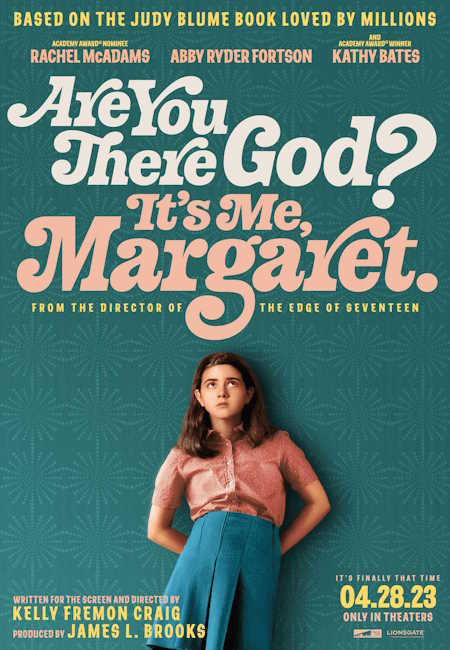 Despite all her handwringing, some of Margaret's concerns dissipate early on into the move when an inquisitive neighbour named Nancy Wheeler introduces herself to the new girl and quickly befriends her. From there, Nancy welcomes Margaret into her friend group which is made up of Janine Loomis and Gretchen Potter and they begin drafting rules for membership into their little club that they all must adhere too. Margaret encounters some more of her future classmates through socializing with this new found friend group. This includes a particular boy called Moose, who is quite plain, that she takes a shine too although the other girls overlook him as they swoon over the popular boy of Philip. As part of a yearlong assignment, Mr Benedict, Margaret's teacher, encourages her to investigate into her family's differing faiths once it is revealed that she doesn't celebrate the holidays for that very reason. Margaret agrees, putting herself on a road to discovering the religious beliefs of both her parents and uncovering some long held divisive intolerances in her extended family.
While I went into this one with no real expectations, I left the theatre a satisfied customer as I had very much enjoyed it despite not being a member of the target audience the movie would primarily be catering for. This, in my mind at least, would mostly be for younger girls entering the realm of womanhood and women who wanted a nostalgic throwback to the heydays of their childhood in the 70s. Most of this appreciation was to do with the likeability of Margaret Simon, who made for an intriguing and in some ways relatable heroine, as well as the humorous script which kept things light when it needed to be. The film was well received by critics but unfortunately bombed at the Box Office in what has been a challenging year for Tinsel Town with significant titles such as 'Indiana Jones and the Dial of Destiny' flopping. On a side note, the name 'Nancy Wheeler' had rung a bell immediately upon hearing it but it appears, after some research, that the monster hunting 'Strangers Things' counterpart wasn't named in homage to this earlier character but the naming was merely the result of coincidence.
Plot=9/10
Characters=9/10
Special Effects=7/10
Overall=9/10
Quote of the Day
I believe everything and I believe nothing. I suspect everyone and I suspect no one.
Inspector Jacques Clouseau
A Shot in the Dark