A Good Day to Die Hard
Greetings, Die Hard: A Good Day to Die Hard is the fifth instalment in the Die Hard series and was directed by John Moore. It should be noted that Moore has not previously had a role in the other four movies. A Good Day to Die Hard was released to cinemas back in 2013 which means that 25 years had passed since the original film was launched in 1988 and the fifth film's unveiling. Among the main actors are Bruce Willis as he returns to his iconic role as John McClane and Jai Courtney as Jack McClane, son of the protagonist. Other performers include Sebastian Koch as a Russian political prisoner called Yuri Komarov and Yuliya Snigir as Yuri's daughter Irina. Mary Elizabeth Winstead, best known for her roles in Abraham Lincoln: Vampire Hunter and Scott Pilgrim vs the World, briefly reprises her role from Die Hard 4.0 as Lucy McClane.
The film starts in Moscow with Yuri Komarov, a whistleblower on the Russian government, is going to stand in a rigged trial. The trial was set up by corrupt Russian official, Viktor Chagarin, as he believes that Yuri has incriminating evidence on him hidden in a secret file. Viktor is unaware of the location. Jack McClane, a CIA operative, has also been arrested after a failed assassination attempt and tries to get a shorter prison sentence by making a deal to testify against Komarov. In America, it is revealed that John McClane has a difficult relationship with his son and has not been in contact with Jack for several years. John learns that his son in is trapped in a troubling situation and he decides to travel to Russia to fix the problem.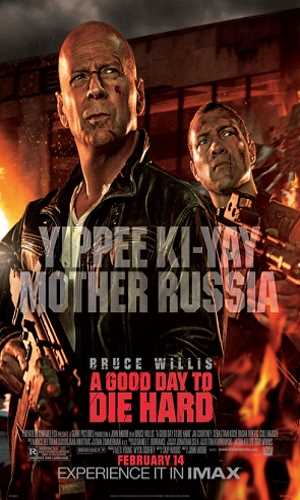 Once McClane arrives in the country, he makes his way to the courthouse were Yuri is on trial and Jack is also being held. An explosion rocks the courthouse as part of an attack by an enforcer known as Alik shortly after John arrives at the scene. During the assault, Jack manages to free Komarov and escape the building at which point John is briskly reunited with his son. The three have to quickly escape Alik's forces as they flee to Jack's hideout. It is then revealed that Jack had been working undercover for the CIA to free Yuri and use the criminal evidence to bring down Chagarin. Komarov had agreed to the deal if he and his daughter Irina were given safe passage out of Russia in exchange for the document. John McClane is reluctantly pulled into the plan and placed into a dangerous situation once again.
Due to the success of the original trilogy and the first film in particular, A Good Day to Die Hard had a great reputation to live up to. It wasn't able to do this in my opinion and the series continues to decline in quality. While some of this is to do with Jai's somewhat wooden performance, the main problem in my opinion is that no villain in the series has been able to surpass or be on par with the character of Hans Gruber. The late Alan Rickman brought charisma to the character and all other foes seem to be a poor substitute for McClane to fight against. Overall, it is an okay but generic action film to watch which can stand on its own without the audience to needing to know about John's previous escapades. There are also plans for a sixth film that will be a prequel set in 1979 when John McClane is still a young cop. I don't place too much hope on Die Hard: Year One being able to recapture the feel of the first film but believe that it will be better than the last two instalments.
Plot=6/10
Characters=5/10
Special Effects=7/10
Overall=6/10
Quote of the Day
Most test subjects do experience some, uh, cognitive deterioration after a few months in suspension. Now, you've been under for … quite a bit longer, and it's not out of the question that you might have a very minor case of serious brain damage. But don't be alarmed, all right? Although, if you do feel alarm, try to hold onto that feeling, because that is the proper reaction to being told you have brain damage.
Wheatley
Portal 2