Abraham Lincoln Vampire Hunter
Greetings, Abraham Lincoln: Vampire Hunter is a 2010 action horror novel that was written by Seth Grahame –Smith. Seth is the author behind Pride, Prejudice and Zombies, a parody of Jane Austin's iconic literary piece. His spoof take on the classic came out a year earlier than Vampire Hunter and since then he has worked on various films including the Lego Batman Movie, the remake of Child's Play as well as IT Chapter 1 and 2. He is also believed to be involved with upcoming Gremlins and Beetlejuice sequels. This novel is, for several large segments, written as if it was the secret diary of Abraham Lincoln. The fictional biography also contains historical references in its footnotes or other annotation and old photographic 'evidence' of vampirism as part of it story telling technique.
The story starts in a quiet American town in the late 2000s. A youthful and mysterious man named Henry Sturges strikes up a friendship with a cashier who used to be an aspiring author until life put his dreams on hold. Henry gifts the cashier a diary before disappearing from the small town for unknown reasons. Once the cashier returns home with the present, he realizes to his astonishment that he has been given the personal diary of the 16th president of the United States and that much of his real history had been buried. He learns that the ill-fated president had in actuality been a slayer of vampires and the author uncovers the real cause behind the American Civil War. The Confederate States of America had been lead in part by vampires and the slavery system existed to serve them as slaves were a food source as opposed to the historically accepted reality of forced labour. The slaves were to be drained of their fluids on a mass scale and in a secretive manner so the humans did not learn of the vampire's existence. The diary begins when Abraham was 11 years old and living with his impoverished family on the Lincoln farm. One night his drunken father, Thomas, reveals in a distraught state that Abe's grandfather had been killed by a vampire in 1786 as opposed to the cover up tale of being massacred by a Native American tribe.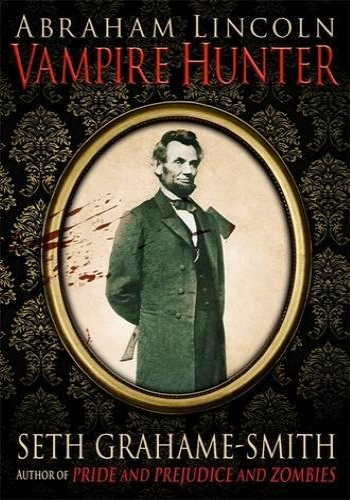 Abraham eventually encounters the wicked works of a vampire when Nancy, his mother, succumbs to an illness. He learns that Nancy had not died from milk sickness as he had wrongly believed but she had been poisoned by a vampire after his father had failed to honour his debts that had been owed to a local vampire. Abe began to loathe his father for not defending his family and swore to himself that he would spend his life hunting down vampires across America in revenge. His first act of revenge took place a year later when he lured the vampire responsible for his mother's death into a trap and staked it through the heart using the element of surprise. Some years later in 1825, Abraham had been preparing to kill vampires daily using an axe and an assortment of homemade weaponry and tracks down one travelling along the Ohio River. Despite his best attempts and all of his rigorous training, he is defeated and almost drowned by an old, weak vampire. His life is saved by the intervention of another vampire who kills Lincoln's intended target. The vampire, one Henry Sturges, is no friend of his own kind and offers to help Abraham in his quest to rid America of its vampire curse.
I enjoyed this book. It was exactly the type of novel I was expecting it to be with such a bizarre premise as well as its self-explanatory title. Despite the obvious fictitious elements, it also keeps to the facts about Lincoln's life and provides an interesting view into the fictionalized Abraham's mind-set. A film adaptation was made with the involvement of Grahame-Smith in 2012 although is does differ significantly from its source material. Benjamin Walker, Mary Elizabeth Winstead, Rufus Sewell, Dominic Cooper and Anthony Mackie are among the primary cast of the movie. Seth also wrote a sequel to Vampire Hunter entitled 'The Last American Vampire' that I will most likely look into reading at some point.
Plot=8/10
Characters=7/10
Wording=9/10
Overall=8/10
Quote of the Day
And so life in the Shire goes on, very much as it has this past age. Full of its own comings and goings with change coming slowly, if it comes at all. For things are made to endure in the Shire, passing from one generation to the next. There's always been a Baggins living here under the Hill, in Bag End. And there always will be.
Bilbo Baggins
The Lord of the Rings: The Fellowship of the Ring