Fatal Attraction
Greetings, 'Fatal Attraction' is a 1987 film that was directed by Adrian Lyne who is also known for directing the popular dance flick 'Flashdance' and the renowned horror movie 'Jacob's Ladder.' The film has a strong cast that includes Michael Douglas of 'Romancing the Stone' fame as the protagonist Daniel Gallagher, Glenn Close as the infamous villain Alex Foster alongside Anne Archer and Ellen Hamilton Latzen as Beth and Ellen Gallagher respectively. The music was composed by Maurice Jarre who had previously written music for the David Lean epics 'Lawrence of Arabia' and 'Dr Zhivago' and who had also worked on 'A Passage to India' and 'Ghost' to name a few of his projects.
The film starts with a married man called Daniel, a lawyer, who crosses paths with Alex, an editor for a publishing company, at a high profile publishing event. An instant attraction occurs between the two although Daniel is unable to act upon his desires as his wife, named Beth, is also at the event as his plus one. After a few chance meetings in the workplace, Daniel's and Alex's interest in each other begins to grow and they have an opportunity to act on their adulterous thoughts when Beth and his daughter Ellen are having a weekend out of the city. Daniel takes Alex out to a restaurant and after some deliberation on whether he should stay faithful to his wife, he is successfully seduced by Alex as she takes him back to her place and assures him it will only be a short lived fling. Daniel and Alex enjoy each other's company that night and, under the impression that the affair was over, he slinks out of her dingy apartment during the small hours of the morning while she slept. Alex didn't share his views and pestered him the next day until Daniel reluctantly agreed to spend the rest of the weekend with her.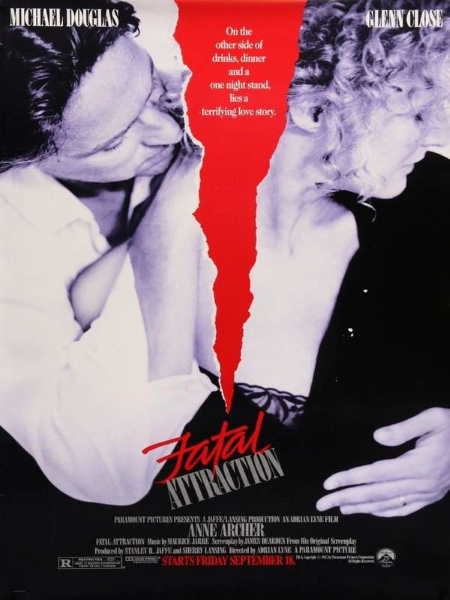 Once the weekend is coming to its end, Daniel tries to leave after an emotional Alex begins to berate him for not wanting to stay with her for longer. As he attempts to exit through the door, Alex slits her wrists in a hysterical state. An astonished and panicked Daniel rushes to her aid and bandages her up. He managed to get home after Alex falls asleep but his troubles don't end there. An apologetic Alex turns up at his office one day and claims that she regrets how she acted. She wants to make it up to Daniel by bringing him to a performance of 'Madame Butterfly', an opera they had bonded over during a meal at her apartment. Daniel, knowing his family was back in Manhattan, refused her politely and explained that their brief affair was over. Despite his best efforts to bring the matter to a close, a persistent Alex rings his office continuously and then starts contacting his home number after he no longer takes her calls at work. Much to Daniel's fear, Alex begins escalating her attempts to drag him into her life and slowly but surely he begins to understand how insane she really is.
If you have yet to see this iconic movie, I would recommend that you watch it at some point as it lives up to its well-earned reputation in my opinion. It is rather deliberate in its pacing at the beginning of the movie, allowing characterization to take place, but that slow burn helps build up the pressure as it creeps along and produces some very intense moments. It also remains well entrenched in Popular Culture with the phrase of 'Bunny Boiler' still being used as a descriptor for obsessive women that feel romantically rejected. A pejorative term named so after Fatal Attraction's most notorious scene. The film was later adapted into a play in 2014 and, as recently as early 2021, there are plans to reboot the movie as a television show for the streaming service Paramount+.
Plot=9/10
Characters=9/10
Special Effects=8/10
Overall=9/10
Quote of the Day
Cops! What the hell do they want? I haven't done anything... lately!
Jack Colton
Romancing the Stone