Legend
Greetings, 'Legend' is a 2015 film by director Brian Helgeland who had previously directed 'A Knight's Tale,' which was released in 2001, and was also involved in writing the screenplay for 'L.A. Confidential' which came to theatres in 1997. 'Legend' stars Tom Hardy in a dual role as the notorious British gangsters, Ronnie and Reggie Kray, alongside notable actors such as Emily Browning, Christopher Ecclestone, Colin Morgan, David Thewlis, Taron Egerton and Paul Bettany. The music was composed by Carter Burwell who created the soundtracks for both 'The Founder' and 'Being John Malkovich.' The soundtrack also contains contemporary songs from the 60s including works from artists such as Burt Bacharach, Marvin Gaye and Santo and Johnny.
The plot is set in London during the Swinging Sixties and follows Reggie Kray, an important figure in the English underworld, as he walks about in his territory and does his best to avoid the ever watchful authorities. It is clear that Reggie is well known in the impoverished London streets and gets on surprisingly well with most of the residents although some do take exception to the former boxer turned gangland thug. His twin brother, Ronnie, is institutionalised in a psychiatric hospital for paranoid schizophrenia but is released under duress as the hospital staff are not so subtly threatened to do so. Reggie is advised by a concerned employee that his identical twin is mentally unstable and highly aggressive so it would be for the best for Ronnie to take his medication daily.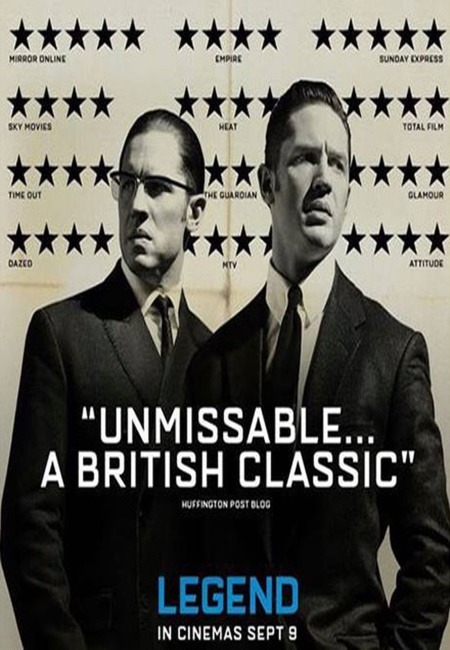 With Ronnie now walking free, the Kray twins are ruling large swathes of London and getting into territorial skirmishes with the rival Richardson Gang. Reggie is the more astute of the two, essentially leading 'The Firm' alongside their business partner named Leslie Payne, while Ronnie derives great enjoyment from fighting and indulging himself in his homosexual desires. While running the business, a young woman by the name of Francis catches Reggie's eye. The two hit it off much to the disapproval of Francis' mother who dislikes the gangster's immoral lifestyle. Things seem to be going well for the Krays as the sadistic Richardson Gang's operations become hampered by the police but the good times aren't going to roll on forever as Ronnie's uncontrollable psychotic problems become a bigger and bigger hindrance to 'The Firm's' criminal activities.
While I liked this film and believe the actors all gave good performances, especially Hardy as two distinct people, it seemed to lack a certain quality that would make it stand the test of time. While there was a noteworthy charm to it, 'Legend' isn't going to rank amongst other gangster flicks such as 'The Godfather', 'Goodfellas' or 'Casino'. This is partially down to some pacing issues in which the movie seemed to drag on without a clear purpose. It could also be down to the heavy focus on the relationship between Reggie and Francis that, while there was definitely some onscreen chemistry, it wasn't the most interesting part of the premise. Despite its flaws, I would still recommend this film to any fans of mobster movies.
Plot=7/10
Characters=7/10
Special Effects=6/10
Overall=7/10
Quote of the Day
I am serious. And don't call me Shirley.
Dr Rumack
Airplane!