Comanche Moon
Greetings, Comanche Moon is a Larry McMurtry novel and is the second story in the Lonesome Dove series but was the last one written. After the events of Dead man's walk, Woodrow Call and Augusts McCrea are still serving the Texas the rangers but this time under the command of the adventurous Inish Scull. Like the prequel I thought it was well written, especially when characters such as the native tracker Famous Shoes used broken English as he was speaking or when other individuals use sloppy English to give the atmosphere of a relaxed western setting. On a side note, the lazy dialogue gives the characters a bit more personality.
There are several plot lines as it is a large book with around 800 pages to read. It begins with the two main characters Woodrow and Gus on an expedition along with several others including Inish Scull as well as Famous Shoes following the trail of native horse thief Kicking Wolf to the north of the country. After a while, Inish Scull's horse is stolen by Kicking Wolf who plans to ride it to Mexico and trade it to trade it to a Mayan bandit known for his cruelty to those that come near his territory. Inish Scull sends his company back home, giving Call and Gus the honour of being captains and tasked with leading the men back to Austin. Meanwhile Inish and Famous Shoes travel by foot to catch up to Kicking Wolf.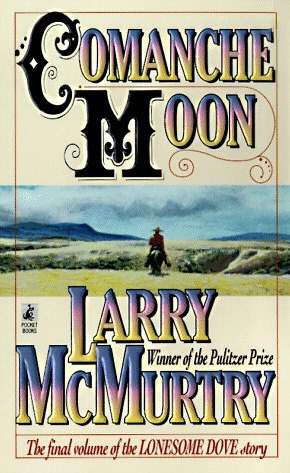 Buffalo Hump a once a great and feared Comanche leader decides to launch a great raid against the settlers as he knows his growing old ad that the whites will eventually win. Without the Texas rangers to fend off the attack, the settlements are vulnerable. Buffalo Hump also attempts to deal with his rebellious son, Blue Duck, who he suspects would try to overthrow him now that his strength was fading. There are several other storylines but these are the two are the most prominent as well as mentions of the oncoming Civil War.
I really enjoyed the experience and it has raised high expectations for the original Lonesome Dove novel. Comanche moon establishes the story for the sequel by introducing the bandit Blue Duck and that he is a wanted man for the Texas rangers, Woodrow and Augusts. If you are into Westerns I would recommend it as well as Dead man's walk.
Plot=7/10
Characters=9/10
Wording=8/10
Overall=8/10
Quote of the day
Shiny! Let's be bad guys
Jayne Cobb
Serenity