La La Land
Greetings, La La land is an award winning 2016 musical staring Emma Stone and Ryan Gosling as the two lead performers. It was directed by Damien Chazelle who had previously worked on films including Cloverfield's spiritual sequel, 10 Cloverfield Lane and Whiplash. The music was conducted by Justin Hurwitz who also composed the score for Whiplash but he appears to be relatively new to the businesses as he only has a few scores credited to him. The OST has won numerous awards including best original song and best original score from the Golden Globes. A lot of the songs are purely orchestral while the rest mainly consist of duets by Stone and Gosling or solo pieces by one of the main performers. Supporting cast members include J.K Simmons, who while having a minor role, is probably the most notable of the actors and actresses in the film. Simmons also collaborated with Chazelle and Hurwitz in the past while working as a prominent actor on the critically acclaimed Whiplash.
The plot begins on a highway in Los Angles in which the two central characters are both blocked in traffic in their separate cars. Mia, an aspiring actress with hopes of becoming an internationally recognised star while currently working as barista, is played by Emma Stone. Jazz pianist Sebastian is portrayed by Ryan Gosling, known for his roles in movies such as 2011's Drive. An infuriated Sebastian honks his horn in a fit of road rage at Mia, who is unaware of the moving traffic as she is too busy practicing her audition lines while sitting in the gridlock. It is alter revealed that the audition does not go well for Mia and she does not get the part. Later that same night she goes to a lavish party in Hollywood Hills and at the end of the night she discovers that her car has been towed. As such, she is forced to walk back home but during her travels she hears a piece music that catches her attention. Drawn to it, she walks into the building that it is emanating from and finds Sebastian sat at a piano and playing the instrument. Sebastian, who was to play a set list of Christmas music but chose to play his own improvisation, is fired on the spot due to previous warnings being unheeded. The pianist then leaves the room and ignores Mia who was about to compliment him on his encaptivating performance.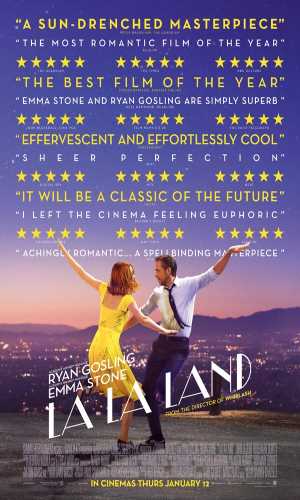 The next scene takes place a few months later when the two meet again at another party. At this point in time, Sebastian has swallowed his pride and joined a 198s cover band in order to pay his bills. Mia, upon recognizing him, teases Sebastian by requesting "I Ran (So Far Away)' by English band A Flock of Seagulls. It is a song that he considers beneath his talents and a demeaning insult to his self-perception as being a serious musician with a strong passion for Jazz. Once the party is over the two walk together to their cars and begin to sing their first duet. During this scene, the chemistry between the two becomes more apparent to the audience as they sing about their feelings of attraction in a humorous song entitled "A Lovely Night" in which they playful insult and jibe at each other. Their relationship begins to blossom when Sebastian offers to take Mia on a date to see the 1955 film 'Rebel without a cause' in which their date ends with the couple dancing in the Griffith Observatory.
The film's storyline is rather simplistic and doesn't include many characters or side-plots, having a heavy focus on Mia and Sebastian's intimate relationship instead. It is also a very vibrant movie with aesthetically pleasant locations and visually impressive scenes that prove to be very memorable. While I have no particular interest in or fondness for musicals, I did enjoy La La land despite my earlier concerns about seeing a movie of this genre. I also believe that the conclusion, which was intended to leave the audience with a bitter sweet ending, was the right decision for the movie to take. It fits in well with the consistent rivalling themes of La La Land of sacrifice, dreams and love. Due to my opinions on La La Land, I would be interested in exploring Whiplash and any future collaboration between Chazelle and Hurwitz.
Plot=8/10
Characters=9/10
Special Effects=7/10
Overall=9/10
What is it that makes a man a man? Is it his origins — the way things start? Or is it something else, something harder to describe?
Professor Bruttenholm
Hellboy