Inside Job
Greetings, 'Inside Job' is a Netflix original comedy series that was created by Shion Takeuchi who has worked on several well-known animations such as 'Regular Show', 'Gravity Falls' and 'Disenchantment'. Aimed at an adult audience, the series was released in two parts with the first batch being available to stream in October 2021 and the latter half a year later in November 2022. The cast is comprised of some icons in the voice acting industry and includes Lizzy Caplan as the lead Reagan Ridley, Adam Scott, Christian Slater, Clark Duke, Tisha Campbell, John Di Maggio, Bobby Lee and Brett Gelman in the major character roles. The music was composed by Robert Bolton, Matthew Bronson and Mischa Chillak who don't appear to have much in the way of a discography at present.
The plot is set in a world where powerful secret societies exist, cryptids roam the land and even the most bizarre conspiracy theories ring true. The story begins when Reagan, a highly gifted Japanese-American robotics engineer, arrives at the gates of the White House where her drunk father, named Rand, is harassing tourists and ranting about the shadowy elite who really run the country. She convinces the inebriated Rand to leave the White House by dragging him into her car and drives him to her place of work, Incognito Inc, which is the very clandestine organisation that Rand was railing against. Once inside, Reagan attends a team meeting were she informs her strange and colourful colleagues about her plans to ensure the newly elected American President is under Incognito's control. She has built a robotic replica of the Commander in Chief that she has dubbed ROBOTUS and schemes to swap out the real President with the machine.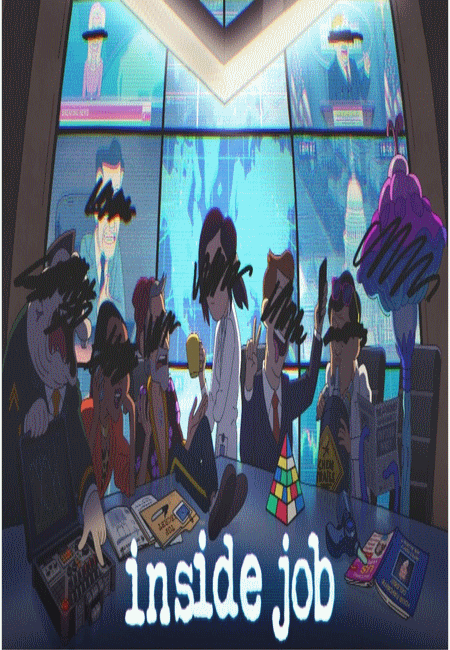 Her plan seems to be going well until her boss J.R. advises that she will only be co-leading the mission as he has brought in a charismatic new recruit, Brett Hand, to make up for Reagan's appalling lack of social skills. Reagan is not well pleased with this decision and becomes even more insecure when she learns that Brett landed the role without any prior experience and effortlessly charms her colleagues into liking him. She attempts to usher him out of the company but her efforts backfire and the out of his depth Brett is put in charge as the sole lead of the mission. Things go further wrong for Reagan once the AI replaces the President and becomes self-aware. Once in full command of the Oval Office, ROBOTUS decides to wipe out humanity when he realises how awful the human race can be. With the world in immediate danger, the only way for the situation to be resolved is if Reagan and Brett put aside their issues and work together to beat the masquerading machine.
I really enjoyed this show and its unique premise of an office based sitcom set in the backdrop of a conspiratorial reality meant there were endless possibilities for stories to be told. The humour was a highlight of 'Inside Job' for me which remained consistently good throughout and the more dramatic moments were executed well by a talented ensemble cast who really breathed life into their characters. The dysfunctional protagonist of Regan has a very distinct personality and she was an enjoyable character in particular to watch as she tried to navigate through the chaotic workplace and her less than stellar life. Unfortunately, Netflix followed its usual business strategy and cancelled the show after only 18 episodes even though it was receiving positive reactions from critics and developing a strong following. As I liked this show so much, I will likely be checking out more of Shion's work in the future.
Plot=10/10
Characters=10/10
Special Effects=10/10
Overall=10/10
Quote of the Day
Villainy wears many masks, none so dangerous as the mask of virtue.
Ichabod Crane
Sleepy Hollow