Moonraker
Greetings, Moonraker is the third book in Ian Fleming's famous series about the British spy, James Bond. I have read as well as reviewed the two previous books on this blog and came to the conclusion that I didn't enjoy Casino Royale or Live and Let die as much as I hoped I would. I stated that if Moonraker failed to grab my attention I would be giving up on the series. Unfortunately it followed in the same footsteps as the other two for the reasons that it just isn't a joyful experience or that interesting to read. In my opinion its age is starting to show and there are other more immersive novels to delve into.
The plot is reasonably straight forward and takes place shortly after the end of the Second World War. With the world in chaos due to the advancement of nuclear weapons in the hands of various countries and the return of the USSR as a rival, Britain needs to defend itself. Entrepreneur Hugo Drax constructs the Moonraker with the help of ex-Nazi scientists, a missile intended to ensure the safety of the British people in the event of an attack. 007 is sent to investigate the project and its leader after the suspicious murder of the current chief of security by a German worker. As Bond digs into the case further, he realizes that there is more to it than the initial impressions the press gives, indicating that Hugo is not as innocent as he seems.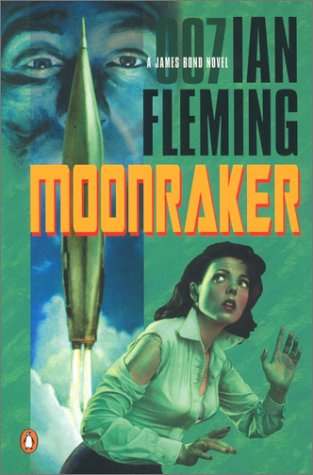 It is a short book, not even 200 pages long, but it is rather dull. Understandably due to the time it was written in, the Germans and soviets are not portrayed in a very positive light which makes it similar to the racist and sexist undertones in Live and Let die. Overall, the characters are pretty flat and the plot is slow to move to anywhere remotely interesting. So I would suggest that you avoid the series as a whole as speaking for myself, I haven't enjoyed a single 007 novel by Ian Fleming/ If you want to get your Bond fix I would suggest playing the video games, reading other 007 novels by different authors such as Sebastian Faulks or the films which seem to have raised their standards.
Plot=6/10
Characters=7/10
Wording=6/10
Overall=6/10
Quote of the day
Look at that, Mrs. Hudson. Quiet. Calm. Peaceful. Isn't it hateful?
Sherlock Holmes
Sherlock