The World's End
Greetings, The World's End is the third film in the Cornetto trilogy, a movie series that stars British actors Simon Pegg and Nick Frost. It was released in 2013, following their two previous projects Shaun of the Dead Hot Fuzz, which were revealed in 2004 and 2007. While both Pegg and Frost are in the 2011 comedy, Paul, it is not regarded as part of the trilogy as it wasn't directed by the same director, Edgar Wright. Prominent actors in the main cast are mostly British and include Martin Freeman, Bill Nighy and Pierce Brosnan.
The plot revolves around the protagonist, a middle aged man called Gary King who is played by Pegg and still behaves like his teenage self and has a desire to re-experience his youth. He attempts to achieve this by tracking down his old, estranged school friends and to complete the "Golden Mile". The mile is a pub crawl of 12 pubs in their local town of Newton Haven and which concludes at a bar named The World's End, a target they failed to reach in their teenage years. King eventually manages to persuade his old and now successful friends to join him in completing the challenge.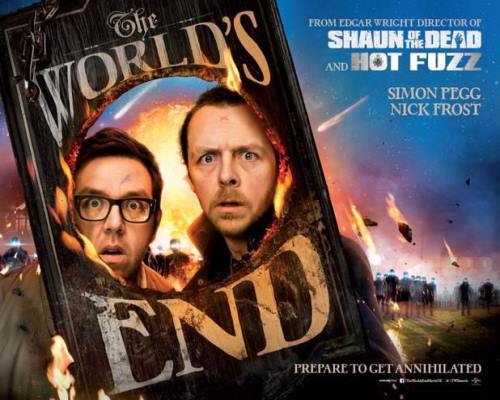 There are tensions between Gary, who had never grown up, and his best friend Andy who criticises King for not doing something constructive with his life. The conflict is pushed into the background when the group begin to suspect that residents of Newton Haven are acting unusually. Gary claims to have been a local legend of the town but few of the inhabitants remember him and seem to have changed their personalities, warning King that something is wrong. His suspicions are confirmed when he accidentally starts a fight with a teenager in the men's bathroom, to his surprise the youth doesn't appear to be human. He ultimately wins the fight with the help of his friends and once the group realize that they tangled in a conspiracy they attempt to complete the "Golden Mile" to avoid raising suspicion of the locals and escape Newton Haven.
I liked the film but I believe that Shaun of the Dead is still the best film in the series. If you enjoyed the previous instalments in the Cornetto trilogy you would most likely like this too. The actors provided the film with good performances, it is quite humorous for the most part with an interesting plot and colourful characters. Overall it is a movie that I would recommend, especially if you are a fan of their previous work, Shaun of the Dead and Hot Fuzz.
Plot=8/10
Characters=8/10
Special effects=9/10
Overall=8/10
Quote of the day
As Mr. Sloan always says, there is no "I" in team, but there is an "I" in pie. And there's an "i" in meat pie. Meat is the anagram of team... I don't know what he's talking about.
Shaun
Shaun of the Dead