GLOW
Greetings, GLOW is a television series that ran from 2017 to 2019 and consists of three seasons. Created for Netflix by Liz Flahive and Carly Mensch, the premise was based on an actual wrestling programme that was called the Gorgeous Ladies of Wrestling which was often simply abbreviated to G.L.O.W. The original show started in 1986 and concluded in 1992. The cast of the dramatization has many members but some of the more prominent roles are played by Allison Brie, Betty Gilpin, Marc Maron, Chris Lowell, Sydelle Noel and Kate Nash. Some of these actresses and actors would have been well established prior to the show, such as Allison Brie, but I believe the success of GLOW may also have launched a few careers of its up and coming stars. The music was composed by Craig Wedren but due to its setting contains a lot of 80's hits from artists such as Queen, Genesis, Kate Bush and Joy Division.
The story begins with aspiring actress Ruth who is struggling to secure traditional acting roles despite her best efforts. Her situation is similar to her friend, a fellow actress named Debbie, who complains that she is often only offered more lewd roles and so the two are empathetic towards each other's plights. One day Ruth is invited to apply for an unusual audition. Ruth turns up at the agreed place, a gym which is already occupied by other women trying out for some roles like her, and is unsure of what she should expect from this potential job. The director arrives not long after. He is a cantankerous man called Sam Sylvia who is best known for his gratuitous horror films and who has a penchant for chain smoking and heavy drinking. He explains to the gathered women that the show is a wrestling programme in which they are required to fight each other. Sam offers the invitees the opportunity to leave after hearing the nature of the show and a large number of them do so.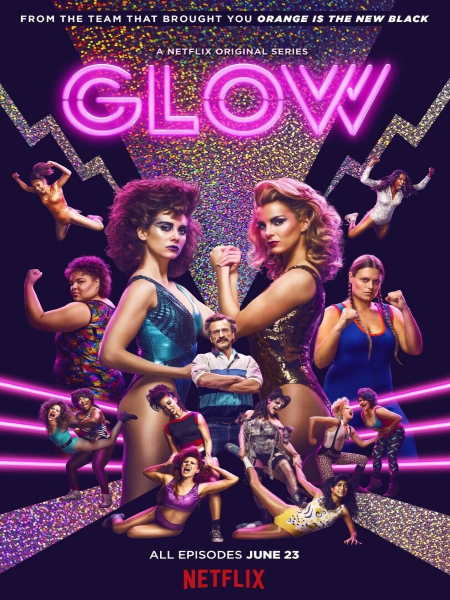 Ruth, needing a steady pay check, decides to stay on. After a rocky start with Sam who doubts if she is a good fit and cites her lack of fighting skills as a reason, Ruth tries to prove that she is willing to learn the wrestling moves and that her acting background would be beneficial to the theatrical nature of the show. Sam is eventually convinced to include Ruth through a strange set of circumstances when an enraged Debbie barges into the gym and demands to know if Ruth had slept with her husband Mark. Ruth, feeling guilty by her betrayal, confesses that she did so in a moment of loneliness and weakness. Debbie lunges at her friend and begins hitting Ruth. Sam, upon witnessing the spectacle, visualises the scene in front of a roaring crowd and realizes that he has his star wrestler and the villainous heel in front of him.
This is one of my favourite shows of recent times and a large part of that is due to its colourful 1980s setting but also because it has very good characterisation which gets the audience to easily root for its characters. The large cast of characters is handled very well and works very much in its favour with even the more minor roles getting a satisfying amount of screen time or development. This makes it all the more frustrating that Netflix decided to cancel its fourth and final season claiming the Covid pandemic would make filming such close proximity wrestling scenes as too expensive and difficult to shoot. This isn't the first show that Netflix has cancelled that I was enjoying for they had also axed the excellent Dark Crystal: Age of Resistance after one season and I would not be surprised if they were quick to discontinue others in the future as well. There are some hopes that GLOW's storylines can be wrapped up in a film but a few of the cast members, despite pushing for it, remain sceptical if it could be done. Regardless of its premature conclusion, GLOW is a fantastic show that I would recommend you watch if you have yet to see it for yourself.
Plot=10/10
Characters=10/10
Special Effects=10/10
Overall=10/10
Quote of the Day
Immigrants! That's all they do, you know - just drive around listening to raps and shooting all the jobs.
Malory Archer
Archer