Team X Paranormal Division Ch 2 and the Quiz part 3
Greetings, the second chapter of Team X Paranormal Division is up in Warehouse 17. I hope you are and continue to enjoy it. In other news this update brings back the Quiz, which I am thinking of making an annual event, I would like to know your opinion on that. Similar to its two predecessors it has 10 questions, most of which are on various forms of entertainment and the answers are on the bottom of the page. The second chapter of Team X Paranormal Division is up at Warehouse 17.
1. What is the name of the main character in Half-Life?
2. Who said this?-"The game is afoot"
3. How many countries are in the European Union?
4. George Best played what sport?
5. What is the name of the television series about a time traveller by that goes by the name of the Doctor?
6. How many Austin Powers movies are there?
7. What is the name of this character?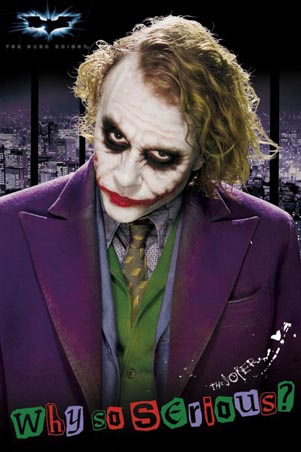 8. Who is the primary antagonist or villain in the original BioShock?
9. Life on Mars is set during what time period?
10. Who provided the voice for Darth Vader?
Spoilers!
Answers
1. Gordon Freeman
2. Sherlock Homes
3. 27
4. Football
5. Doctor Who
6. Three
7. The Joker
8. Frank Fontaine
9. The 1970's
10. James Earl Jones
Quote of the day
I know I'm human. And if you were all these things, then you'd just attack me right now, so some of you are still human. This thing doesn't want to show itself, it wants to hide inside an imitation. It'll fight if it has to, but it's vulnerable out in the open. If it takes us over, then it has no more enemies, nobody left to kill it. And then it's won.
MacReady
The Thing