Ghost Stories
Greetings, Ghost Stories is a 2017 British horror film which was directed by Jeremy Dyson and Andy Nyman. It is a filmic adaptation of a 2010 play of the same name which was also written by the two aforementioned directors. The cast consists of Andy Nyman as the sceptical protagonist Professor Philip Goodman as well as Martin Freeman, Paul Whitehouse and Alex Lawther who are the primary actors involved in this movie. The music was composed by Israeli conductor Frank Ilfman who does not seem to have worked on any other notable projects and includes the song 'Why' as performed by Anthony Newly during a particularly tense scene.
The plot begins in 1979 where a young Philip Goodman watches helplessly as sister is thrust out of his family by their strict father. She had been dating a South Asian man, an inexcusable act of betrayal in the eyes of her traditional father as it flew in the face of his beliefs. The plot moves some decades into the future when a now grown up Philip is a television presenter and debunks showmen psychics that he believes are taking advantage of vulnerable people who have suffered through loss. Philip's rationale for doing so is that he doesn't want the superstitions that ruined his family to be able to destroy others as well. His work catches the eye of Philip's personal hero, an aging paranormal investigator named Charles Cameron, who had dedicated his life to disproving supposed supernatural happenings. Cameron had been famous during the 1970s but had long ago disappeared mysteriously and was declared missing in the decades since. Philip is invited to meet his idol and, motivated by his curiosity, agrees to speak with him.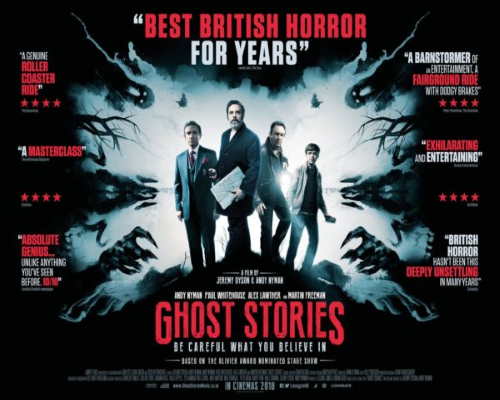 It is soon revealed that Cameron is living in a caravan, is on his deathbed and is now impoverished despite his earlier fame. The frail Cameron shocks Goodman by revealing he now believes that all his previous cases were real and that paranormal entities are authentic. Cameron gives his fan three supposedly separate cases to solve as he himself couldn't conclusively prove that there were no unnatural elements at play. Philip accepts the challenge and interviews his first person of interest, a standoffish security guard called Tony Matthews. After managing to chip away at Matthew's defences, Philip discovers that the man was beset by family troubles that included a wife who died from cancer and a daughter who suffers from locked-in-syndrome. A frightened Tony tells his tale, reliving his unusual experience when he had seen an apparition during a night watch at an abandoned asylum for women.
I really enjoyed this movie but I would state that it had more of a creepy, unnerving vibe running thorough it as opposed to having any particular terrifying scenes that stood out to me. The film also ends on a well-crafted twist that I appreciated and thought was nicely foreshadowed throughout the movie. It would be my opinion that even non-horror fans should watch this film as it has a well thought out plot, interesting characters and is brilliantly shot as well. I'm unsure of what Jeremy Dyson and Andy Nyman have planned for future projects but it is unlikely that there is a Ghost Stories sequel in store as it seems to be a standalone movie, especially when considering its surprising ending.
Plot=9/10
Characters=8/10
Special Effects=9/10
Overall=9/10
Quote of the Day
Power, I said! Power to walk into the gold vaults of the nations, into the secrets of kings, into the Holy of Holies. Power to make multitudes run squealing in terror at the touch of my little invisible finger. Even the moon's frightened of me! Frightened to death! The whole world's frightened to death!
Dr Jack Griffin
The Invisible Man