X-Files: Ground Zero
Greetings, The X-Files: Ground Zero is a novel based on the television series about two special agents investigating paranormal cases, Fox Mulder and Dana Scully. This book was written by Kevin J Anderson, who didn't write the any of the episodes as far as I am aware. Unfortunately I wasn't really impressed with this book and I was hoping it would have got me more into the lore of the series. It has a few problems as far as I m concerned, one being the lack of interesting characters.
The plot begins with the death of Dr Gregory, a nuclear scientist, who opened a mysterious letter and was killed via high amounts of radiation despite there being no materials or substances that could set of radiation in the room. Therefore Mulder and Scully are sent to figure out what had caused this and who was behind it. It isn't long before they uncover a secret project named Bright Anvil and seek answers from Gregory's ex-assistant, a radical anti-nuclear protestor who attempts to destroy or delay her previous work.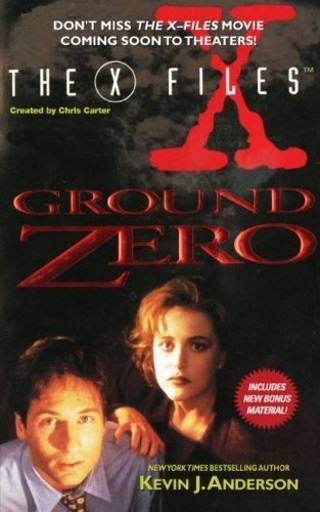 I found that the wording was bland and it wasn't helped by the fact that the villain who was meant to be portrayed as sympathetic but came across as irritating. Mulder, a character that I actually like in the series, attempts to be funny but his statements are cringe worthy. It takes a long while for the plot to start moving with unimportant events occurring and even then the surprise twist as well as the explanation isn't overly interesting.
This isn't exactly the worst novel I have read as most of what I think of as bad doesn't get reviewed on the blog, but it certainly isn't something you want to experience unless you are a hard core fan of the X-Files. I have some other X-Files books that should hopefully prove to be more exciting. The seventh episode of the fourth series of the Adventures of Fletch and Roman is up at Warehouse 17.
Plot=5/10
Characters=5/10
Wording=5/10
Overall=5/10
Quote of the day
Oh, you think darkness is your ally. You merely adopted the dark. I was born in it, molded by it. I didn't see the light until I was already a man. By then, it was nothing to me but blinding! The shadows betray you because they belong to me
Bane
The Dark Knight Rises