Casino
Greetings, Casino is a gangster film from 1995 that was directed by Martin Scorsese and stars Robert De Niro, Sharon Stone and Joe Pesci as the primary cast members. James Woods and Don Rickles also appear in the movie and are the more prominent actors from the supporting cast. The film is based upon the book 'Casino: Love and Honour in Las Vegas' by Nicholas Pileggie which is a non-fiction novel that focuses on the life of Frank 'Lefty' Rosenthal, a casino executive and an associate of the mafia known as the Chicago Outfit. It was the second collaboration between Nicholas and Martin as they had worked on Goodfellas, another epic crime film, five years prior to Casino. It was also the eighth movie that both De Niro and Scorsese had worked on together with some of their previous projects including Mean Streets, Taxi Driver and Cape Fear. Like other Scorsese movies, the soundtrack contains many songs from the era that were sung by numerous artists including Louis Prima, the Moody Blues, Fleetwood Mac, Brenda Lee and Tony Bennett.
The plot begins in 1983 with the attempted assassination of casino owner Sam 'Ace' Rothstein in which a car bomb detonates as Sam clambers inside the vehicle. After the supposedly grisly end for Rothstein, the film reverts back to 1973 when the man was a sports handicapper for the mob and it is made apparent that he was very effective at calculating winners. Sam's talent for handicapping ensured the higher ups of the mafia took a great interest in him and sent Rothstein to Las Vegas where he was to effectively run the Tangiers Casino without acquiring a gaming license. Sam performed his duties well, much to the pleasure of his Mafioso partners, and ensured any cheaters were quickly identified and dealt with as befitting a gangster's idea of just punishment. Sam's work is threatened by the arrival of fellow mobster and a personal childhood friend of his, Nicky Santoro, who is renowned for his violent temper. Nicky had been sent by the Chicago Outfit to protect Sam's enterprise which was monetarily benefiting the syndicate as they skimmed the casino's profits.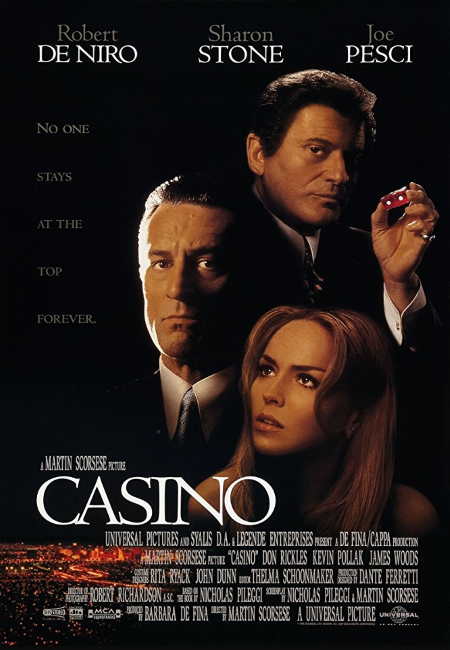 Nicky proves to be nothing short of a headache for Sam as his confrontational attitude gets Santoro banned from every casino in Las Vegas and it starts to draw unwanted attention to Rothstein. With nothing else to do, Nicky decides to start burglarizing homes without the consent of the mob. Meanwhile Sam begins to fall for Ginger McKenna, a hustler and former prostitute, who eventually marries Rothstein and the two conceive a daughter. Despite the initial strength of their marriage, it quickly begins to deteriorate due to the presence of Ginger's old boyfriend, Lester Diamond, and the two begin hating each other as Sam starts restricting Ginger's access to Lester. The poisonous relationship between Sam and Ginger is one of the many threads that threatens to destroy Rothstein's personal life and his entire career.
Overall, I liked this film and I would recommend it to fans of the gangster genre. This is especially true if the person enjoyed Scorsese's previous crime movies. In my opinion, there are many similarities between it and Goodfellas in terms of narrative structure, themes and its overall style but it doesn't quite reach the same standards as the earlier instalment. There is certainly a very notable absence of humour in Casino that was present in the 1990 film and I consider Joe Pesci's character of Nicky Santoro to be essentially the same as his earlier role of Tommy DeVito. Both characters are volatile, aggressive and short tempered and there is a similarity in the two character's arcs. Despite this, Casino is still definitely worth your time and I look forward to exploring more of Scorsese's work in the future. I am particularly intrigued by the Irishman which is due out later this year.
Plot=-8/10
Characters=7/10
Special Effects=8/10
Overall=8/10
Quote of the Day
You might very well think that. I couldn't possibly comment.
Francis Urquhart
House of Cards