The Kominsky Method
Greetings, 'The Kominsky Method' is a Netflix original television series created by Chuck Lorre who is known for creating hit shows like 'Two and a Half Men' and 'The Big Bang Theory' that have carved out their place in popular culture. By comparison, 'The Kominsky Method' could be described as a series that has flown under the radar even while having significant stars such as the two main leads of Michael Douglas and Alan Arkin. Other prominent cast members include Sarah Baker, Nancy Travis, Paul Reiser, Kathleen Turner and Haley Joel Osment. There is also a significant number of special guests that appear during the course of the show such as Danny DeVito, Elliot Gould and Bob Odenkirk. The music was conducted by Jeff Cardoni who has composed for other programmes with some of more notable ones being 'CSI: Miami', 'Pimp My Ride' and 'Wilfred'.
The plot revolves around the life of Sandy Kominsky, an aging actor who had a brief stint in the limelight but became an acting coach after he felt he was never going to land a significant role in the movie business. Even though he resigned himself to teaching, Kominsky couldn't help but hope that he might one day hit the big time and become recognised as a high calibre actor. Sandy is best friends with his agent, Norman Newlander, a fellow figure in the industry who is also getting on in years and a rather cranky individual. The two characters have an interesting relationship which involves them constantly trading barbs with each other but ultimately being able to understand their respective experiences as they share common ground due to working in the same fields. Norman is going through a rough patch in his life at the beginning of the show as his daughter, Phoebe, is a complete screw up who is in and out of rehab clinics while his wife, Eileen, is losing her battle with cancer.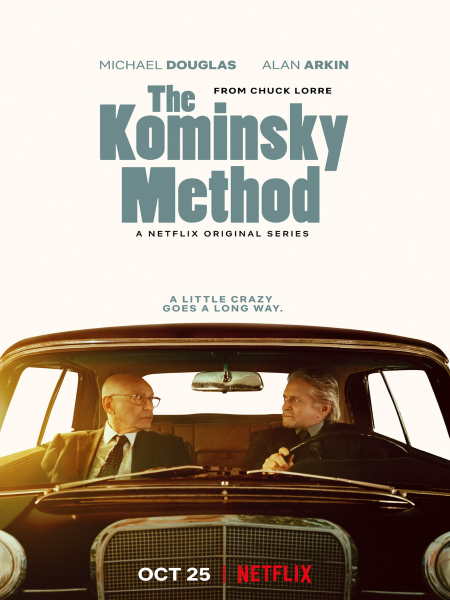 As this is ongoing, Sandy takes a fancy to one of his acting students called Lisa who he discovers has an attraction to him too. After some debate as to if it is a good idea to date one of his students, Sandy decides to throw caution to the wind and seize the day by asking her out. Lisa agrees and the two go on a date. All is going well until it is interrupted when Sandy's adult daughter from a failed marriage, Mindy, informs him via phone call that Eileen has died. In a memorable first date, Sandy takes Lisa, who asked to come along as a form of support, and his daughter Mindy to the hospital that Eileen was taken to. They discover that Norman won't leave his wife's side and it takes a while for Sandy to convince his friend that he is able to break away from her and take the important initial step of going home as part of the long healing process.
In my opinion, 'The Kominsky Method' is a very different beast to the crowd pleasers made by Lorre as mentioned previously for a few reasons. The first is that it followed a distinguishable plot that only ran for 3 seasons from 2018 to 2021 and consists of 22 episodes in total while the others lasted for considerably longer, resulting in meandering storylines. Another factor is that it typically deals with more serious topics and relies on light, witty humour to brighten the mood as opposed to attempting to garner a laugh from the audience every minute or so with situational comedy. Due to this, I suspect 'The Kominsky Method' would be less accessible to some audiences and may be overlooked because of it. Nonetheless, I enjoyed this programme and would recommend it if you are looking for a drama with some light hearted humour that can be watched in a fairly short amount of time.
Plot=7/10
Characters=8/10
Special Effects=6/10
Overall=8/10
Quote of the Day
The point is ladies and gentlemen that greed, for lack of a better word, is good.
Gordon Gekko
Wall Street